Every single hall is unique and can be ordered as client wants.

Each of the following products are available from various manufacturers and of varying quality, design and dimensions, respectively.
Heating and Ventilatsion
First, you must keep in mind that the PVC gray can be ordered with or without insulation. Heating systems, ventilation, humidifiers, dehumidifiers and other air conditioners will be installed according to the purpose of the hall. All buildings are provided with a ceiling fan and the air intake apertures in order to prevent condensation.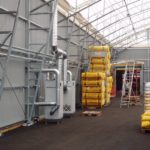 Doors and gates
Location and size of the doors and/or gates will be chosen by the customer. There are sliding doors, lift doors, doors with automatics and various solutions to the trestle. We have used well-known manufacturers like Hörmann, Prido, Crawford etc. as a partners.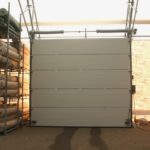 Lightning
Generally the roof is a white coloured that provides excellent light transmission in the daytime without extra lighting. Despite this, we can install all kind of lighting solution onto halls framework as customer wants.